The Sundays #2, which is currently being serialized on this website, is going to be in print for the Detroit Fanfare Convention in October. Pre-ordering ends on August 25, so don't wait if you want one. Pre-ordering ensures you'll get a copy, as this will be an extremely limited print run, and if you don't pre-order you might not get a copy for several months if at all.
I should have the comics by late September or early October, but you can help me pay for the printing by pre-ordering a copy right now. Each copy is $3.99 and if you want to throw in an extra $2, I will send you a pencil sketch card along with your comic.* The sketch cards are limited to twenty (plus the cards I have left over from the first pre-order), so order right now if you want one! It's first come, first serve!
How to order:
Here is how. First, you'll want to be a resident of the United States. International shipping is super expensive, and we're working on getting these comics available in the UK, but until then this is for US residents only. If you really want a copy and are willing to pay exorbitant shipping rates, email me and we'll work something out. But provided you live in the US:
Start with $3.99 for the comic.
Add $2 if you want a sketch card ($5.99).
Add $5.30 for shipping ($9.29 for just the comic or $11.29 for the comic and sketch card).
Send all that money via Paypal to ewen.scott@gmail.com.
Include your shipping address and who you want the comic signed to, if in fact you do.
OR:
Come see me at Detroit Fanfare convention in October and buy a copy from me for $3.99. You won't get a cool pre-order sketch card for $2, but I'll draw one for you for $7 on the spot, if you really want one.
*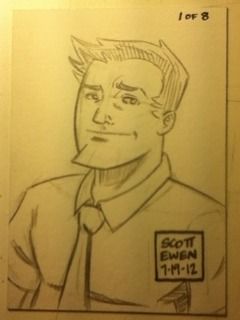 Here's the thing about these sketch cards: I'm only doing twenty of them, so it's very limited. I'll be doing 8 Richard cards, 6 Sarah cards, 5 Emaline cards, and 1 No-Nickname Mike card, and inserting them at random into orders that paid an extra $2 for them. Normally I charge $7 for penciled sketch cards so this is not a terrible deal. You can request which character you want, but I reserve the right to ignore it and give you whatever card I have at hand.